TD5 Rev counter installation
Many TD5 drivers already asked how to install a rev counter. In fact it's quite easy as this report by from LandiePhil at www.viermalvier.de shows. Thanks Andy for the german text and pictures.
I used a rev counter especially for the TD5 by VDO.
The counter isn't cheap but I wanted an gauge that looks exactly like the other instruments.
To fit the gauge I had to clean things up first. I removed the clock- after all I have one at the wrist. I moved the coolant and the tank gauges to the left. Now I had a free mounting space immediately beside the speedometer. After setting it in it's new place there was a new question: How to wire it up on a TD5?
The gauge has 5 contacts: 2 for the light, one to connect to a switched line with power on when contact (don't use the + from the clock here), one earth (here you can use the - from the clock) and one for the signals. This last one was wired to the ECU box under the passenger seat. On the silver box (ECU) you see 2 large connectors on the front and 2 on the rear. Use the rear black one (C0658).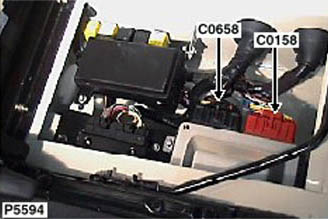 The rear connector C0658 has 3 rows of connectors: Upper, middle and lower row. The sixth switch in the middle row, labeled #19 is the signal output to use.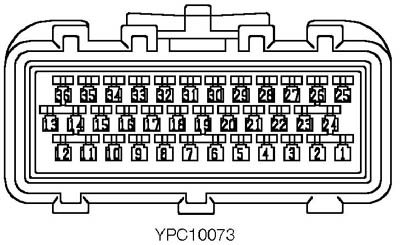 On mine (a 2000 model) it was connected to a white/grey cable but on a 1999 model there was no cable out on the back side. In the pic below the new yellow cable is already mounted.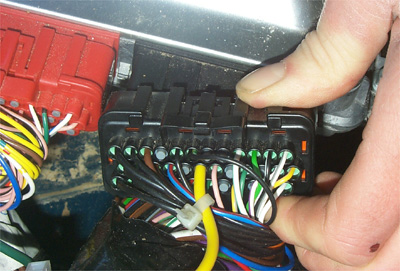 Now put a needle in that hole and connect a rev counter with crocodile clips to it. Start the engine and see if the rev counter works. If it does (and why shouldn't it?) make a permanent connection. If there's no cable simply inset the correct cable shoe and new cable. Else solder a cable to the white/grey line and put self-vulcanising tape around it.

It this does work with every rev counter? No idea but for us it worked with the genuine Land Rover rev counter.

For any comments mailto LandyPhil

ermanent connection. If there's no cable simply inset the correct cable shoe and new cable. Else solder a cable to the white/grey line and put self-vulcanising tape around it.

It this does work with every rev counter? No idea but for us it worked with the genuine Land Rover rev counter.

For any comments mailto LandyPhil